The topic of this page has a wiki of its own: Broadchurch.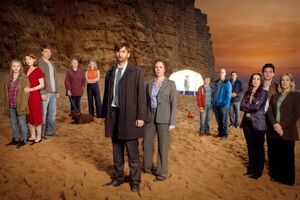 Broadchurch is an ITV crime drama set in the fictional town of Broadchurch on the English coast.
It follows the story of the investigation into the death of Danny Latimer headed by DI Alec Hardy and DS Ellie Miller, and explores the reactions of the small, close-knit town to the revelation of a murderer amongst them, as well as the reactions of the press.
For more information about Broadchurch, see the Broadchurch Wiki.
Episodes
Edit
Section heading
Edit
Write the second section of your page here.
Ad blocker interference detected!
Wikia is a free-to-use site that makes money from advertising. We have a modified experience for viewers using ad blockers

Wikia is not accessible if you've made further modifications. Remove the custom ad blocker rule(s) and the page will load as expected.