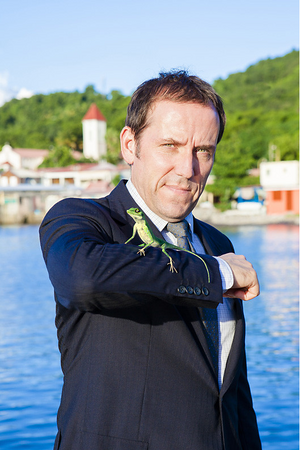 A British inspector assigned to the island to investigate the previous inspector's murder, Poole was instructed to remain on the island as the new police detective. Despite his distaste for the island and inexperience with tropical weather — to the point that he continues to wear his old suits despite their impracticality — he has often shown a useful knack for making deductive leaps based on minimal information and random events, and has generally formed a good bond with his new team despite the occasional personality clash (as opposed to his old role in London, where his colleagues threw a party after his departure). In the final episode of Series 1, Poole receives the news, from the Commissioner, that his old job in London is still available, only needing to call the head office, but only for this deadline to be a few hours away due to his ability to solve near-impossible murders. He misses this deadline and is now the permanent police chief of the island. In season 2, he has grown slightly more flexible in his behaviour (if not much). After an impressive piece of work on Fidel's part, he personally recommends him for the Sgt's exam, which he rather awkwardly offers Fidel encouragement on. He has since arriving on San Marie, found himself becoming owner of a lizard that wandered into his house, which he has named Harry.  
Ad blocker interference detected!
Wikia is a free-to-use site that makes money from advertising. We have a modified experience for viewers using ad blockers

Wikia is not accessible if you've made further modifications. Remove the custom ad blocker rule(s) and the page will load as expected.